For details on FREE DELIVERY to Swift Current and select communities, please see our Policies page.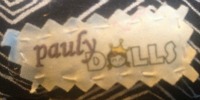 Catalog > Brands > Pauly Dolls
"Every Girl's a Princess"
50% of the sales of Pauly Dolls is donated to rescue victims of human trafficking.
Pauly Dolls are locally hand-made in Swift Current, Saskatchewan.